Benjamin Thorn Profile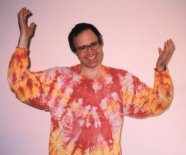 Benjamin Thorn (b.1961) grew up in Canberra and studied at Sydney University completing a PhD on The functioning of semiotic nuclei in theatrical analysis in 1987. This has proved to be an amazing ice-breaker at parties but has had little other practical use. He also completed a Diploma of Education as a music teacher. During this period he performed with the Renaissance Players directed by Winsome Evans and was actively composing.
His compositional output includes a range of instrumental, vocal, choral and music theatre works. He has gained world-wide recognition for his works for recorder. In 1986 Pipistrelli gialli was an official Australian submission to the World Music Days. He edited Recorders at Large , a two volume collection of mostly Australian recorder music published by Currency Press which has received considerable critical acclaim. The voice of the crocodile... has been published by Moeck Verlag and was a set work for the International Recorder Competition in Karlsruhe in 1992. In 1991 Missa sine verbum won the 2MBS FM Young Composers Award, and Two diagonals and a squiggle the Fellowship of Australian Composers competition with The voice of the crocodile... being commended in the same competition.
He has edited a number of early 17th Century works for Saraband music, a volume of Larry Sitsky's piano music for children for Currency Press and is also involved in editing and producing Australian recorder music for Orpheus Music who have published a number of his works. Other works have been published by Carus in Germany and Loux in the USA.
His CD Songs of Love and Marriage ,which combines original compositions with works he has edited, was released by MOVE in June 1999. His works also feature on CDs put out by 2MBS-FM, JADE, Orpheus Music and Move.
As a performer he has appeared around Australia and in Europe. In 2002 he gave the first solo recital in the Australian Embassy in Paris and was a guest soloist at the European Recorder Teachers Association (ERTA) conference in Germany.
His performances often involve theatrical elements, such as dance and audience participation: for instance Farmyard, which requires the audience to make animal noises.
Ben's music has developed several concurrent strands. At one extreme are pieces that explore contemporary techniques (particularly the use of voice, multiphonics and playing two instruments at the same time) while he has also written many pedagogical works, both in contemporary idioms and based upon traditional musics; and elaborations of renaissance works by Ortiz and Amerbach. A strong sense of rhythm and metre is common to much of his music, perhaps best illustrated in Time Pieces, a set of short quartets that range from 5/8 to 13/8.
Many of his pieces have whimsical titles, which are intended to intrigue and puzzle performers and audiences. Usually they come after the composition has been completed, and are based partly on possible images that the music might suggest, so that any attempt to be too programmatic in interpretation is probably a fallacy. Though interestingly enough some people find serendipitous elements that the composer was completely oblivious to. For instance people have heard machine guns in The Great Emu War (which refers to the attempt in 1932 to use the army to control a plague of emus in WA).
The voice of the crocodile is simply a paraphrase of a text from the Song of Songs (the voice of the turtle is heard in the land) with a change of reptile (yes he does know that that is in fact a turtle dove!); and people have imagined being attacked by crocodiles during the piece.
Chocolate Bulbul is a piece that could be birdlike but is perhaps a bit manufactured and not quite natural.
Forestry in New England suggested to some early hearers a sense of growing things (and perhaps axes?). When Renate Fischer choreographed a dance to this work she performed the entire piece with a ladder in several configurations.
Purple Pavans Perhaps is a set of dance like movements but with an unusual colouration. The PPP idea then generated an FFF one in Fricasseed Frogs for Felicity, which like the Pavans is essentially a concerto for a solo instrument with accompaniment from a choir of recorders.
The Croutons series of works are sets of short crunchy movements for solo instruments.
We Hate Brussels Sprouts simply provides a text for the rhythm of the main motif (as well as being an amusing idea for young players).
Some titles are actually quite self explanatory, such as Songs for my father's wedding, and Where's the other one? a piece for two recorders but only one player, and Duetto ultimo, the duet to end all duets with both players having to play two recorders simultaneously and sing, and Bouncing which uses antiphonal effects between too choirs of instruments.
Ben has published a number of articles on music and theatre and has been a guest editor of AMC News 13 (Music for Children) and Sounds Australian 20 (Virtuosity). For several years he was the administrator of the composer collective Music Performed organising composer workshops. In 1986/87 he prepared and presented a 13 part series "Hearing the Dots" on 2MBS FM. He now broadcasts on 2ARM FM the Armidale community radio station. He believes not enough music is inspired by vegetables and crocodiles.
His other interests include theatre. He has written music for a number of theatrical performances including versions of The Lion, the Witch and the Wardrobe and Charlotte's Web. He has directed a number of amateur theatrical productions and has written several plays including Apotheosis and Roger and Julie (the geriatric version of Romeo and Juliet).
As a visual artist he has had a solo exhibition of collages: Assemblies, at the New England Regional Art Museum, and his work OW is part of the collection of the Museum of Printing, Armidale.
Select writings on music and the recorder:
"'New' sounds from old pipes" in The Recorder 10, 1989
"The listener as (de)composer" in Ossia 2 1990
"Will the real recorder please stand up?" in The Recorder, 13, 1991
"Why Postmodern Music is Impossible", in Sounds Australian 33, 1992
"Farmyard - or playing with norms" in Pook 5 (vol 2 no 3 Dec 1994)
"Don't Be Afraid of Modern Sounds! They're Fun!" in Cinnamon Sticks Vol 2 No 1 May 2001
"Selling Recorder Music to the World", in Sounds Australian 57, 2001
"Ross Edwards Profile" in Cinnamon Sticks Vol 3 No 1 May 2002
"Getting into Modern Music" in Cinnamon Sticks Vol 4 No 1 May 2003